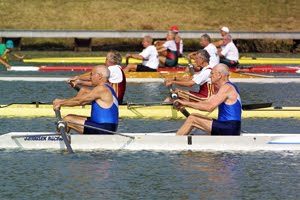 Berita baik untuk pencinta-pencinta sukan mendayung. Mesyuarat jawatankuasa PERDAMA tempoh hari ada menyelitkan agenda MASTER ROWING. Menyedari ramai pendayung-pendayung tegar di luar sana sentiasa rasa terpanggil untuk kembali beraksi. Kali ini anda boleh bersaing bersama lawan yang setanding perut ke depan… hahaha.. maklumlah.. ramai yg sudah bersara. Tak kurang juga yang masih maintain stamina.
Inilah masanya anda menunjukkan bakat tanpa perlu risau akan budak2 universiti yg sudah cecah time ergo bawah tujuh minit!!! Ayuh! Kita mendayung….
CALLING FOR FARID, KEMBAR ZAIDI ZAKARIA, SHAHA, ZURIN, KOIE, AMOI INSPEKTOR, ABG TAJA, ABG MAN, AMIR & MONO DAN LAIN-LAIN LAGI…
Terbuka juga untuk sesiapa yang baru berkenalan dengan dunia dayung… Kami sedang mengumpul data dan membuat perancangan. Jadilah sebahagian dari ahli jawatankuasa penggerak acara yg akan julung2 kali diadakan ini.
COMPETITION DESCRIPTION:
The regatta's format makes it appealing to rowers of all levels. Overall crew ranking is not determined on the basis of heats, repechages, semi-finals or finals. If entries exceed the number of racing lanes in any of the 100 or more events, as many races as necessary are added to the event, with a medal awarded to the winner of each race.
Competing against rowers of similar age is also an incentive to participate.
Age categories are as follows:
A – Minimum age 27 or more
B – Average age 36 or more
C – Average age 43 or more
D – Average age 50 or more
E – Average age 55 or more
F – Average age 60 or more
G – Average age 65 or more
H – Average age 70 or more
I – Average age 75 or more
J – Average age 80 or more
*sumber http://www.worldrowing.com/